Contact Information:
Websites by www.glos.info
89 Andover Road
Cheltenham
Glos
GL50 2TR
Tel: 01242 236608

If you have reason to believe this advert is out of date, please click here to report it to Glos.info.
Do you need a good value, effective website? - starting at £120+vat including hosting
Cheltenham, Gloucester - Click to see some of the websites we have built recently...
What better way to advertise your business than with a good value, professional looking website?
Here at glos.info, we have a selection of quick and easy templates that you can choose from and we will build your website.
Feel free to call us or pop in and we'll talk you through the process.
You need a website and we can design it for you
Quick and easy - You don't need to know all about it, because we do!
Cost effective - Starting at £120+vat with free hosting for 6 months
You know where we are - Visit us, by appointment, at our at Westal Green in Cheltenham
You tell us what you want - And we'll make it happen
At just £10 + VAT per month, we offer a free 45-minute consultation for a 12-month contract website which includes 2 hours with the design team.
You specify what you want while you are with us and we produce your website for you.
To make things easier for you, we ask you to register your own domain name, which means you have full control of it now and in the future.
We ask you to pay 50% payment before the website is built and 50% when the website is completed. Domain name not included.
Please click on the link below for more details and see some of the options available.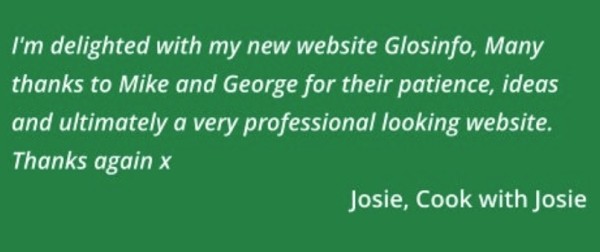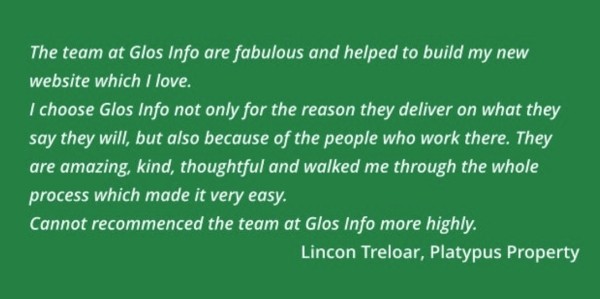 Some of the websites we have built recently...
Find out more, see clients' sites, choose your template and start planning your new site NOW
Websites by www.glos.info
See all listings from Websites by www.glos.info
Newsletter
To sign up up for www.glos.info weekly newsletter, please click here.
Please mention www.glos.info when contacting this advertiser.